Where to Eat: Cebu Grilled Food at Kuya J
29 December 2011
7 Comments
If you go gaga at the mere mention of the word baked scallops and grilled food when you look for good places to eat in Cebu City, fear not for we've got you covered! 
The province of Cebu is not only known for its famous beaches but it is also in Cebu City where you can find the best places to eat and satisfy your hungry bellies. For those looking for local places to eat but does not need a fine dining experience, you can head to Casa Verde for their humongous baby back ribs.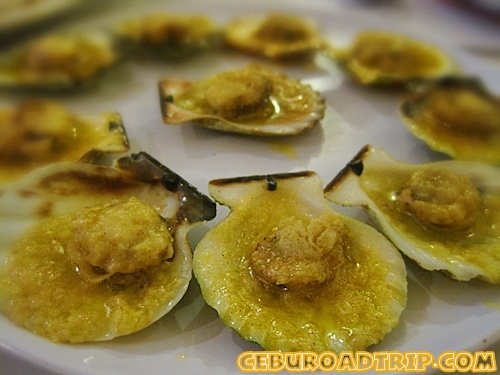 Kuya J Restaurant's baked scallops at P120 per serving
Then there's also lechon, siomai sa tisa and more. But this article is not about giant baby back ribs nor Cebu lechon. This is about one of the best restaurants in Cebu City that's hidden to the public.
Our travel junkie friend, whom we shall call Drew, 😆 found his feet back in the metro a week after visiting Moalboal, Malapascua and Bantayan just so that he could swim with the whalesharks in Oslob and climb Osmeña Peak in Mantalungon, Dalaguete. On his last night in the city, we learned that he loved grilled food. After considering different places to eat in Cebu, I decided to bring them to Kuya J's restaurant the next day before he flew back to Manila.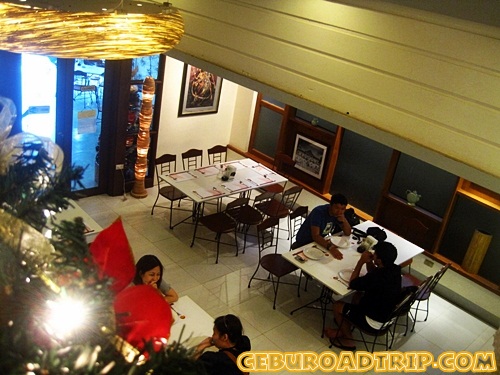 two hungry trippers waiting for their food
I'm also surprised that my fellow roadtripper Ed hasn't been to this side of town so I was a bit nervous if I'd disappoint them with my choice of restaurant in Cebu City. After fetching Ed at his place, we went to get Drew at East Capitol Pensionne and headed to Kuya J's, just a few blocks away.
Kuya J's used to be one of those famous hole-in-the-wall restaurants in the metro where you can simply enjoy good Cebu food as grilled food is one of their specialties. The place used to be an old house turned into a small eatery. It was divided into 2 eating areas which separates those who'd want to dine outdoors and those who'd prefer the confines of an airconditioned dining area.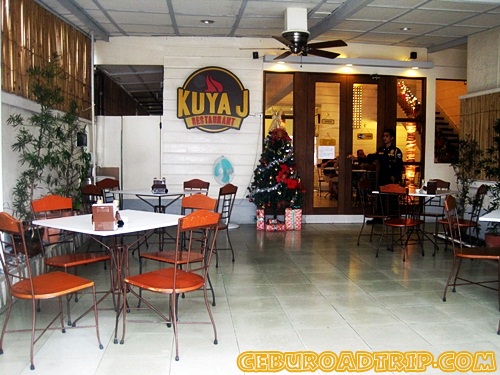 I finally found my way back in this restuarant after a long time and I was impressed with the renovations that happened over the years. One thing's for sure though, Kuya J Restaurant was able to retain the taste of their delicious food.
The restaurant has a couple of delectable dishes to choose from and we had a hard time selecting what we'd order. In the end, it boiled down to ordering what we came for – their baked scallops (P120). Then we also ordered sinuglaw (P195) – sinugbang baboy and kinilaw na isda, grilled tuna belly (P150 – P50/100 grams) and calamares (P100).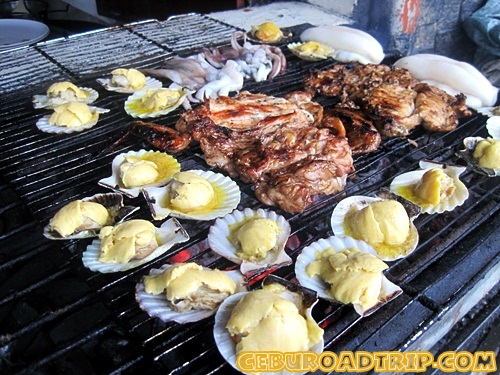 our food being grilled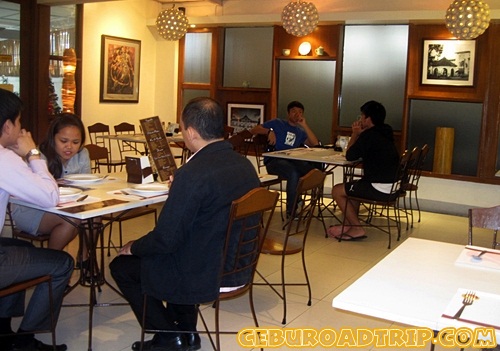 the airconditioned dining area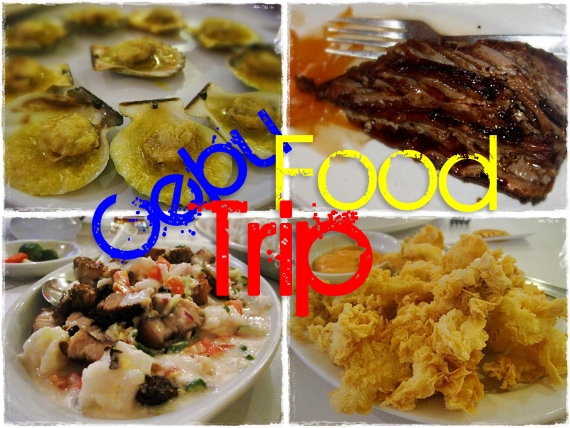 baked scallops, grilled tuna belly, sinuglaw and calamares
Kuya J's food servings are good for 2-3 heads but be sure to ask them of the serving size too. Ordering those four yummy dishes was just right for a party of three but I wish I ordered one more serving of their baked scallops since they were to die for. If you are not fond of eating dry meals, better order one of their soup-based dishes since Kuya J isn't your typical eatery-type of restaurant where you can ask for free soup; everything's cooked on an order  basis.
So, if you are looking for the best place to eat grilled food in Cebu City, you may want to head over to Kuya J Restaurant, a small restaurant hidden within the city which offers great tasting local food. Or you can simply head straight to Larshians or AA's Grilled B-B-Q but that's another food trip we can't wait to embark.
How to Get There:
Kuya J is located at 0394 Orchid St. Capitol Site, 6000 Cebu City, Philippines. If you are coming from Capitol, make a right turn at the intersection where Joven's Grill is located, across Coco Mall, then go straight. Turn right on the last block and you'll see it on your right side, just across STK ta Bay!
Hours of Operation: Mon – Sat: 11:00 am – 3:00 pm and 6:00 pm – 10:00 pm
Phone number: +63 32 2531343
https://www.facebook.com/pages/Kuya-J/122447207777493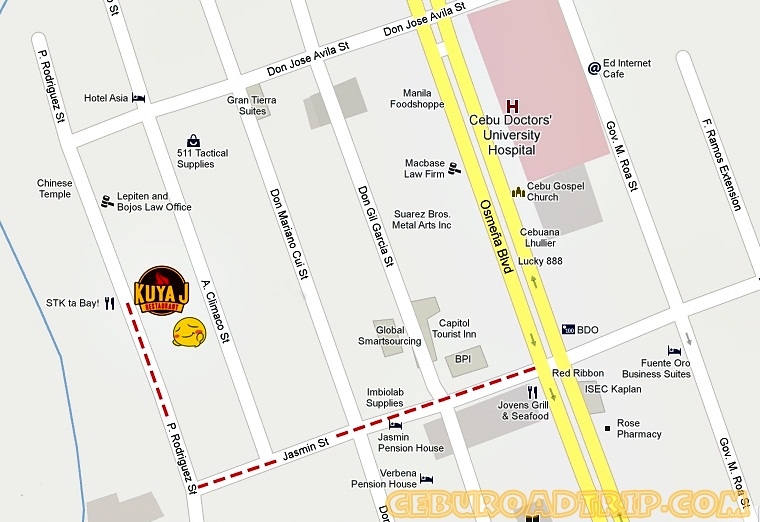 click the image to enlarge
Tags: baked scallops in Cebu City, best places to eat in Cebu, best restaurant in cebu city, cebu food, grilled food in Cebu, Kuya J, Kuya J Restaurant, local places to eat, restaurant in cebu, where to eat