Red Ribbon Bakeshop's Meals and Cakes
1 November 2010
No Comment
Red Ribbon has been providing quality, great-tasting cakes and pastries since 1979 with their first store in Timog, Quezon City. Since then, Red Ribbon has grown to over 200 outlets all over the country and over 38 stores in the US with locations in California, Las Vegas, Arizona, New Jersey and New York. As a matter of fact, Red Ribbon Bakeshop has managed to conquer the hearts of every Filipinos, including Cebuanos. You will see Red Ribbon cakes on almost all households in the country whenever there are celebrations such as birthdays, christenings, anniversaries, and weddings.
And with the store's popularity, Red Ribbon Bakeshop is once again serving new product offerings for avid customers. Here are some of their new offerings together with their very popular cake, the Black Forrest Cake.
Red Ribbon's deliciously different Crispy Chicken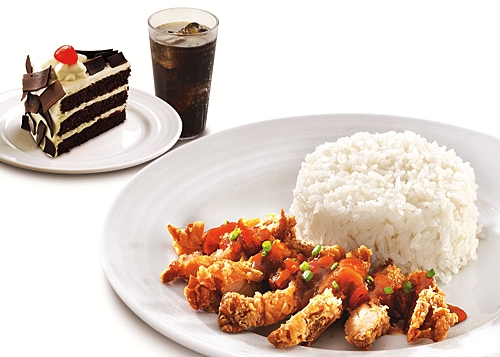 Fried chicken just got exciting with Red Ribbon's new Crispy Chicken.
Marinated, battered, and coated in seasoned flour, the choice cutlets are then fried until extra crispy. Instead of the usual gravy or ketchup, Crispy Chicken is served with a unique rich mango barbecue sauce with real mango bits. This tangy sauce is drizzled on the crunchy chicken portions beside a steaming cup of white rice. The result is a deliciously different meal.
For a sweet ending, order the Crispy Chicken with Red Ribbon's classic cakes. Choose from Black Forest, Chocolate Fudge Cake, or Dulce de Leche. Crispy Chicken is available with a slice of Red Ribbon cake and drink for only P148.00 or ala carte for just P90.00.
For your more than the usual fried chicken craving, try Red Ribbon's Crispy Chicken along with its other delicious meals, cakes, and pastries available in selected stores nationwide.
Black Forest Cake by Red Ribbon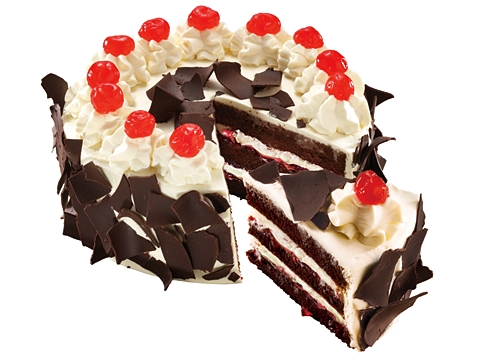 This well-loved cake traces its roots in the southern region of Germany. Today, kitchens continue to churn different ways of creating, or recreating, the Black Forest Cake.
But if there is a version of Black Forest Cake that Filipinos know, it is the one created by Red Ribbon Bakeshop.   It is made up of three layers of chocolate cake, cherries, and cream.  The cake is swathed and topped with another helping of cream before being garnished with chocolate shavings and brimming cherries.  The result is nothing short of a beautiful and elegant dessert.  No wonder Black Forest Cake is Red Ribbon's best-selling cake.
When it first opened its doors in 1978 in Tomas Morato, Quezon City, Red Ribbon's Black Forest Cake is one of the first cakes that debuted on its shelves.  For many years, Filipinos have chosen Red Ribbon's Black whenever there is an occasion that needs to be made extra sweet.
For a delicious slice or two of Black Forest Cake, visit Red Ribbon stores nationwide or call 8-7777 for free delivery within Metro Manila.  Regular size is P590.00 and Junior size for only P370.00.
The best Chocolate Fudge Cake from Red Ribbon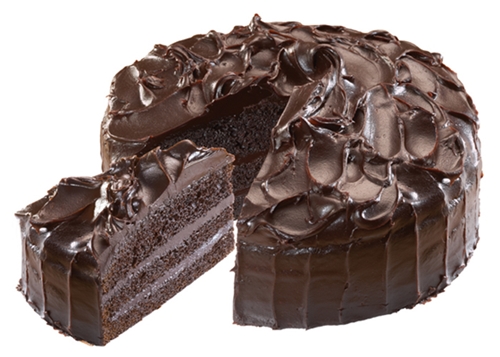 Do you have a chocolate cake you can always count on to satisfy? You do now.
Red Ribbon whips up a sure comfort food list-topper with the new Chocolate Fudge Cake. Premium chocolate, fresh eggs, and creamy butter are perfectly mixed to make a very moist chocolate pound cake. It is then layered with luscious chocolate fudge filling and generously smothered with velvety chocolate icing. Quite simply, it's what a chocolate cake should be.
Whether for a special occasion or a simple gathering of friends and family, Red Ribbon's Chocolate Fudge Cake is sure to make any day delightful. Give in to a slice or two with a cup of brew, freshly steeped tea, or warm glass of milk.
Red Ribbon's Chocolate Fudge Cake is available in regular size for P495.00 and junior size for only P295.00. Enjoy this and other lip-smacking cakes, pastries, and other specialty treats from Red Ribbon stores nationwide.
If you want to catch these new products from Red Ribbon, you can always head to the leading malls and stores in your area. Red Ribbon also delivers within Cebu City through their phone number at 032 254-8000. For more information, you can also visit their website at redribbonbakeshop.com.ph.
You can also check out more of this product offering here:
Tags: Black Forrest Cake, Black Forrest Cake by Red Ribbon, Chocolate Fudge Cake, Chocolate Fudge Cake by Red Ribbon, Chocolate Mousse by Red Ribbon, Crispy Chicken Meal, Crispy Chicken Meal by Red Ribbon, Red Ribbon, Red Ribbon Bakeshop, Red Ribbon Bakeshop Cebu, Red Ribbon Bakeshop's Meals and Cakes, Red Ribbon cakes, Red Ribbon Cebu, Red Ribbon Cocomall, Red Ribbon Mango Avenue