Sorbetes Bai! Ice Cream in Cebu
27 September 2010
4 Comments
Sorbetes Bai! ice cream has been strategically located at the ground floor lobby of the i2 Building in Asiatown IT Park.
Sorbetes Bai! started out as a feasibility study of Business students in University of San Carlos and used to be located at  the the GLOBE TELECOM cafeteria in I.T. Park. Now it's under new management and they tested by placing the stall in the building where I'm working.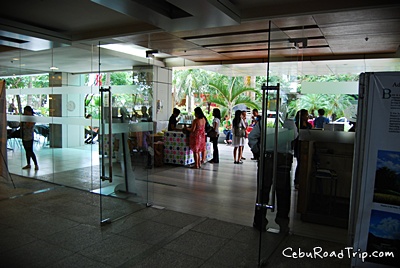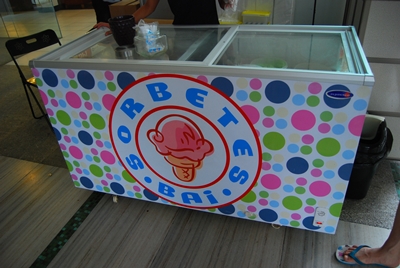 Sorbetes Bai! at the i2 Building
Sorbetes Bai ice cream is reminiscent of those flavor-of-the-road delights because of the fine texture but you can still taste that this is indeed home-made ice cream with the flavors still intact.
There were previous stalls on the same location but this is probably the only one that became a hit. It's probably because of the cost which really is very affordable plus they're generous with their scoop servings.
Sorbetes Bai will only be good until October 5, 2010 but they're working on establishing a stall in IT Park.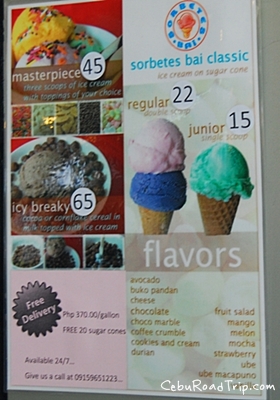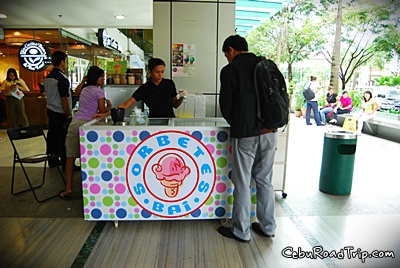 menu and picking through sorbetes bai flavored ice cream
There's a problem at times when the weather gets hot. Sometimes the ice creams would become soft. But even so, other customers wouldn't mind so long as they can get their daily sugar fix.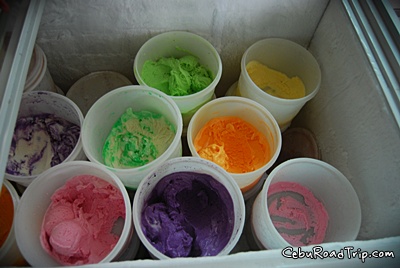 different colors and flavors
Flavors: Avocado, Buko Pandan, Cheese, Chocolate, Choco Marble, Coffee Crumble, Cookies and Cream, Durian, Fruit Salad, Mango, Melon, Mocha, Strawberry, Ube, Ube Macapuno, Vanilla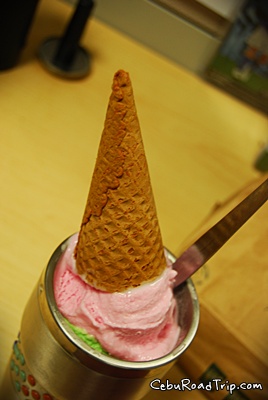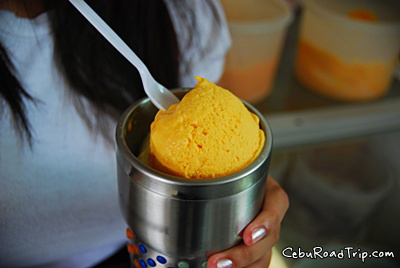 scoop after scoop
Good flavors are durian, avocado and strawberry. Management is open for feedback to help them improve their ice cream's taste.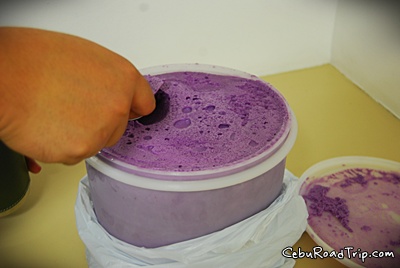 they also sell by gallons
Here are the offerings and their prices:
Masterpiece:  three scoops of ice cream with toppings of your choice – 45 Php
Icy Breaky: Cocoa or Cornglake Cereal in milk topped with ic cream – 65 Php
370 Php/gallon
Free 20 sugar cones
Sorbetes Bai Classic – Ice cream on sugar cone
Regular (double scoop) – 22 Php
Junior (single scoop) – 15 Php
Contact Information:
Sorbetes Bai!
i2 Building Lobby (only until October 5, 2010)
Asiatown IT Park, Lahug, Cebu City
Phone Number: 09159651223
Update: They have acquired a station at the 3rd Floor of i1 Building in Asiatown IT Park still.
Tags: Cebu ice cream, Cebu Sorbetes Bai, ice cream, sorbetes bai ice cream, sorbetes bai!, thesis, University of San Carlos