Swim with Whalesharks in Oslob, South Cebu!
29 December 2011
7 Comments
Hi CebuRoadTrippers! As what we've promised, we're going to share our experiences during our day trip to the South of Cebu. A 3-part series where we swam, jumped and climbed in different places and spent less than 1,500 bucks in the process.
Here is Part 1 of the series:
Swim with the Whale Sharks in Oslob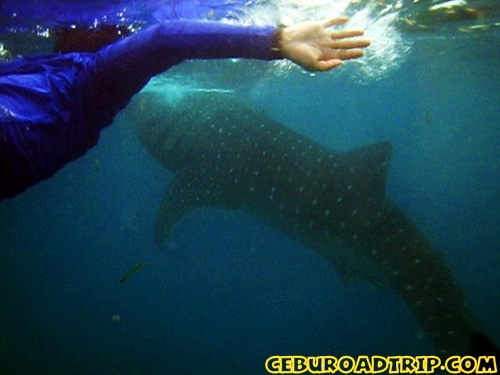 Whale Shark Experience in Oslob, Cebu
Hearing the word 'shark' can trigger movies of Jaws back in the old days and might make you think twice before taking a dip in the waters. But don't worry, these whale sharks are gentle creatures! Our friends from Wikipedia says  "Although whale sharks have very large mouths, they feed mainly, though not exclusively, on plankton, microscopic plants and animals."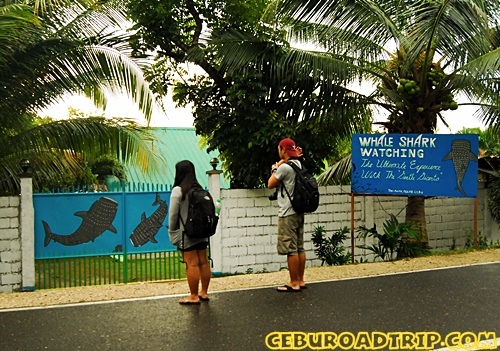 Look for the sign in Tan-awan, Oslob
Sightings of these whale sharks (Butanding in Tagalog or Tuki in Bisaya) are well-known in Donsol, Sorsogon in the Luzon area. But you don't have to go as far as you can immediately experience it here in Cebu.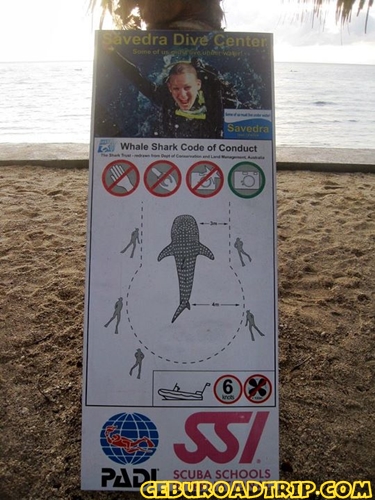 follow the Whale Shark Code of Conduct
Only a 3-hour drive from the city, you can swim with these whalesharks which is considered by Time Magazine as best animal encounter in Donsol in 2004. The best thing about it is that these creatures have been around for a couple of years and there's about 15 of them in the area. You don't have to swim as far as they can already be sighted a few meters away from the shore.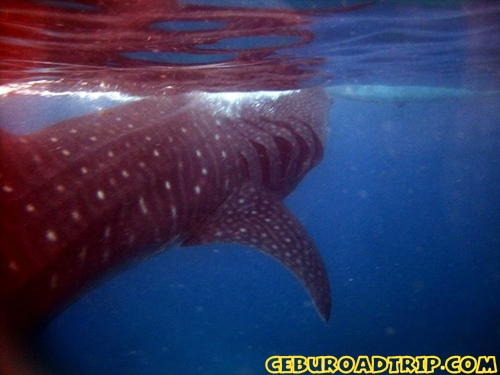 up close
Please note that regulations are ongoing in order to protect these species. Knowing that this is going to be a major attraction in the future, tourists will flock the area and the caretakers are currently coordinating with the marine organizations in order to implement rules that will safeguard these creatures.
Important Points when in the Water:
Be still if the whale shark approaches you, don't panic.
Look at your surroundings and make sure you don't bump into them.
No camera flashes
To preserve their nature, please follow instructions to avoid harming the whalesharks so that in turn, other people may also experience this wonder.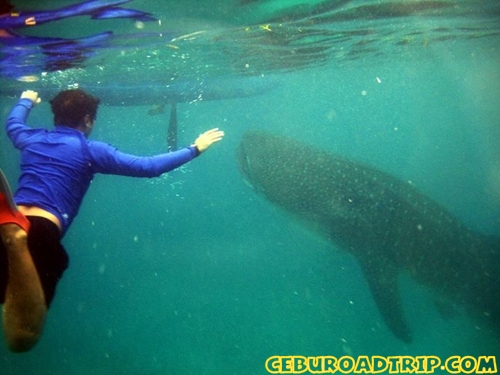 a close encounter with these "gentle giants"
Whale Shark Code of Conduct
Please be advised that we should practice caution when swimming with these whale sharks. They are not used to visitors so while regulations are being implemented, we need to educate ourselves so that as much as possible, we don't harm these creatures:
Do not attempt to touch, ride, or chase a Whale Shark
Do not restrict normal movement or behavior of the Shark
Maintain a minimum distance of 3 meters from the Whale Shark
Do not undertake flash photography
Do not use underwater motorized diver propulsions
How To Get There
Ride a bus going South and tell the conductor to drop you off at the Tanaw-an Barangay Hall in Oslob. Walk a few meters back where you can see a blue gate and sign pointing to the whale shark sanctuary.
Expenses:
156 Php – Air conditioned bus (South Bus Terminal to Tan-awan, Oslob)
100 Php – Entrance Fee
200 Php- Boat Fee for 40 minutes*
100 Php – Snorkeling Gear with Flippers
*Fees may change after proper regulations are implemented for the protection of these whale sharks.
Update as of April 1, 2012:
Photos of whale sharks on the nearby town of Boljoon where uploaded online. It showed of people touching the whale sharks, some rode on these whalesharks. Please be reminded that you should be 3 meters away from a whale shark and that they are not to be touched.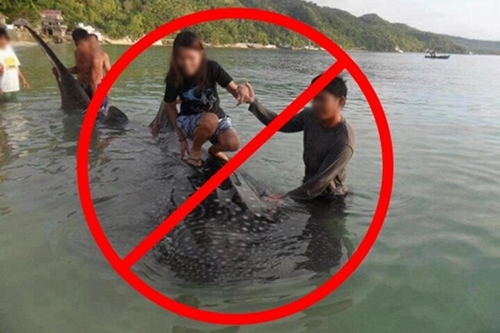 Whale sharks are not pets nor surfboards!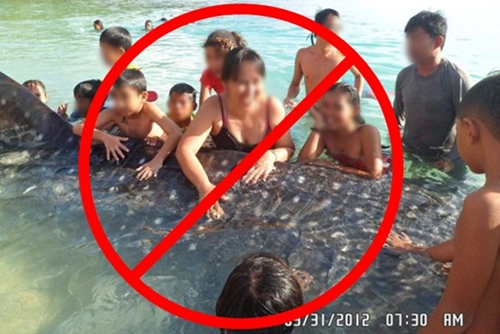 Update as of April 3, 2012
Whale Shark Diving: Code of Conduct
To be aware of what you should do when you swim and dive with whale sharks, please refer to the Whale Shark Diving Code of Conduct on the image below. Please practice safe and responsible tourism at all times to protect these animals.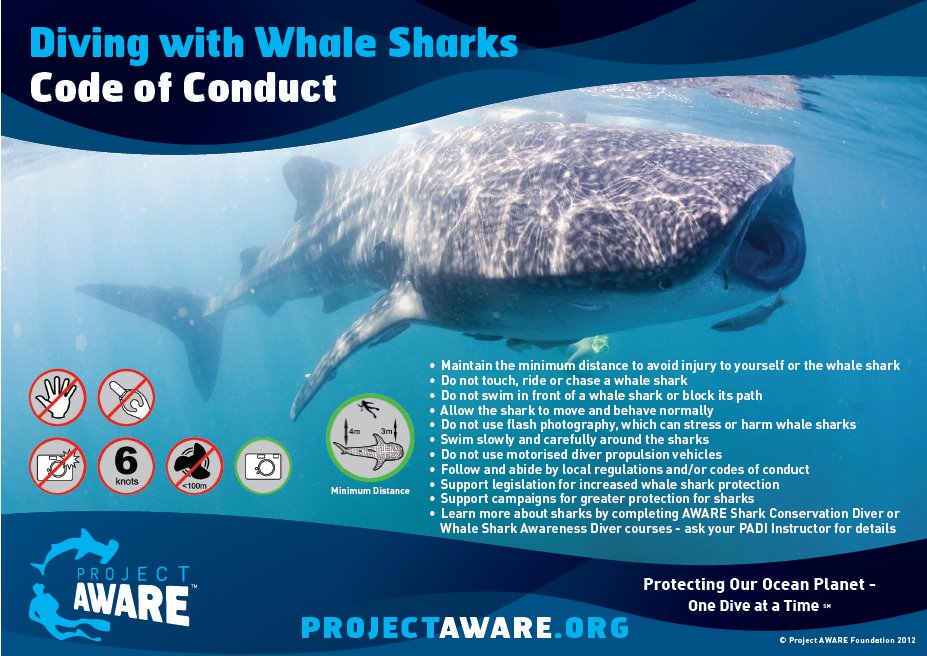 Tags: butanding, Cebu South, diving with sharks, Oslob, pictures of whale sharks, sharks video, snorkel, South, swim, swim with the sharks, swim with whale sharks, tuki, whale shark oslob, whale sharks