Swim, Jump, Climb: Maximizing your Day Trip to Southern Cebu
25 December 2011
2 Comments
After more than a year of being hiatus, your CebuRoadTrippers are back to help you choose the best places where to travel or go on a road trip within the province of Cebu and its neighboring islands. And as a Christmas treat, we'll give you the inside scoop on our latest adventure trips that will surely rock your wander lust.
There are a lot of tourist spots in Cebu and you may have a hard time choosing where to go for your upcoming Cebu tour. For starters, there are numerous Cebu City tourist spots if you want to get to know Cebu's rich cultural heritage. However, you can also get a feel of the best Cebu tourist spots if you go out of the city and travel to the neighboring towns that comprise the province of Cebu.
So in this joyous Christmas season, santa will transform your CebuRoadTrippers into your Cebu Travel Guide and help make you decide where to travel in Cebu.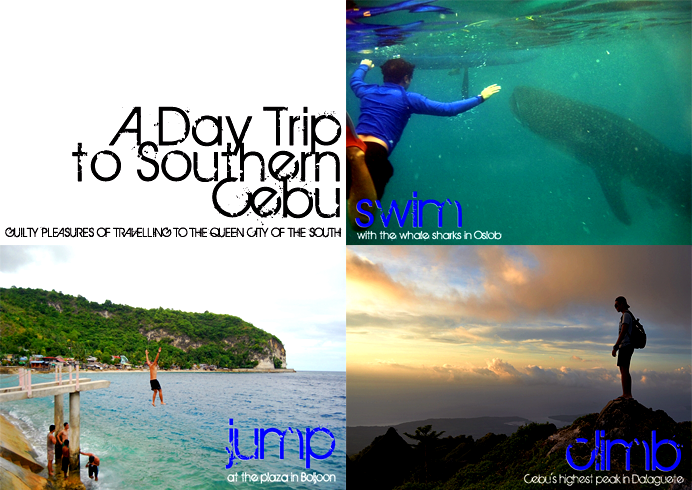 Yeah. You read that one on top right. In this holiday season, we'll give you exclusive information on how to go on a 3-town Day Trip to Southern Cebu which will guarantee you an addicting adrenaline rush. With a budget of P1,500 or less, we'll go on a day trip to 3 towns in the south of Cebu to try 3 simple extreme adventures.
Before we give you this one-of-a-kind adventure trip, you must say YES and consent to all 3 activities, ok?
Itinerary # 1 – Trip to Oslob
We'll take you to Oslob to swim and snorkel. This should be an easy and fun activity. But if we add gentle whale sharks (commonly known as butanding in Tagalog and Tuki in Bisaya), the longest at 27 feet  in the picture, would you still swim with them?
Itinerary # 2 – Trip to Boljoon
We'll then visit the quaint and historical town of Boljoon, Oslob's neigboring town. We'll check out the oldest remaining original stone church in Cebu and follow Boljoon's Heritage Trail. Walking the streets of Boljoon is a piece of cake but with the heat of the scorching sun, jumping off the town's boardwalk and into the open sea wouldn't be a bad idea, right?
Itinerary # 3 – Trip to Dalaguete
We'll now go to Dalaguete, the Vegetable Basket and Summer Capital of Cebu. A 30 minute ride on a motorcycle will get us to Mantalungon, the jump off point to the peak. The climb will only take 30 minutes from the foot of the mountain. Oh, did I mention a scenic 2-hour hike going to the foot of the mountain and the possibility of getting zero visibility from the fog when going down the peak? Do you think you got what it takes to reach the highest peak of Cebu?
If you answered YES to all, then stay tuned as we will provide you with information on those itineraries as we visit 3 towns South of Cebu. 😉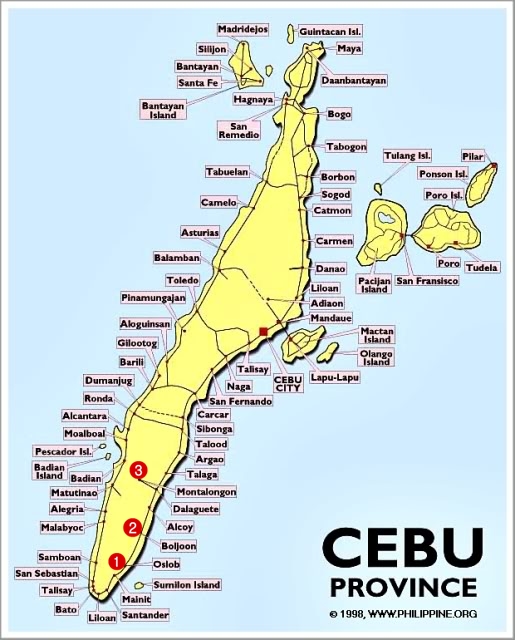 Tags: adventure trip, cebu city tourist spots, cebu tour, cebu tourist spot, cebu tourist spots, cebu tours, cebu travel guide, cebu trip, heritage trail of boljoon, osmena peak, siomai sa tisa, tourist spots in cebu, whale shark oslob, whale shark watching in Cebu, where to travel