Craving for Talaba?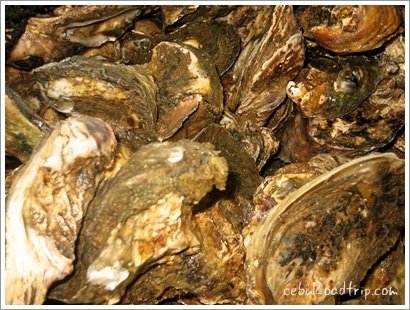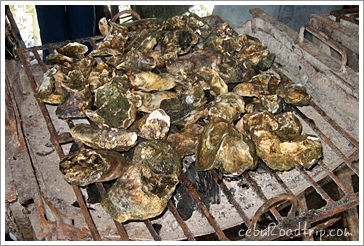 Anyone craving for Talaba? Aside from Tong's famous eat-all-you-can restaurant which offers baked or steamed talaba, there's this Talaba Farm in the outskirts of Consolacion where you can enjoy fresh and juicy talaba, grilled style.
Talaba is the local term for oysters here in Cebu. This yummy dish is said to be an aphrodisiac. Best when eaten raw, oysters or talabas also taste good when grilled! That's a guarantee!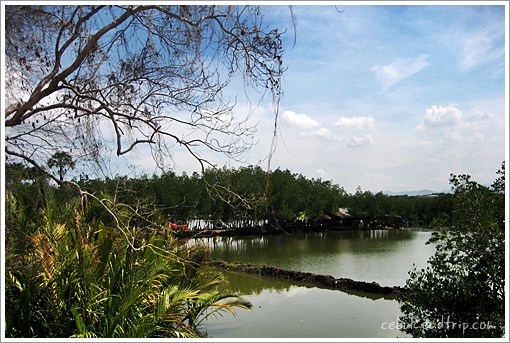 You may not expect that a simple-looking pond located within Tayud, Consolacion could be a place where you can enjoy fresh talaba but the place does exist.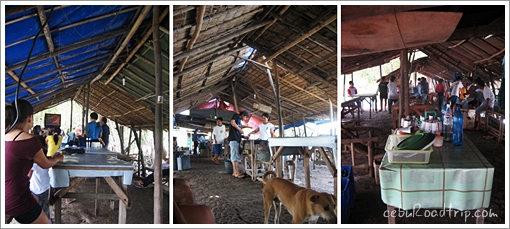 dining area
Once you visit Temyong's Talaba Farm, you shouldn't expect a lavish setting for this place is situated in the middle of a pond. And if you ever want to try dining the old fashioned way, then this is the best place to be.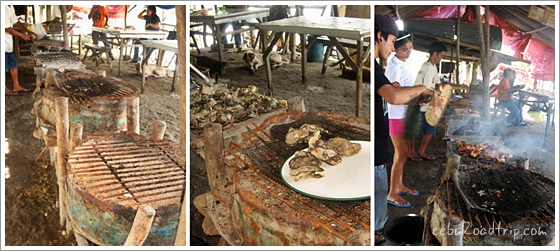 grill area
Temyong's Farm only relies on a standby generator for its electricity and since there's no water available in the area (since it's right in the middle of a pond) then expect water gallons and drums for your source of water. They also have a small sari-sari store. The best thing about this place is you'll be able to reconnect with nature. You can relax and unwind here. Their wide bamboo benches are very ideal for relaxation as you may not help but doze off after a full meal from those fresh Talabas.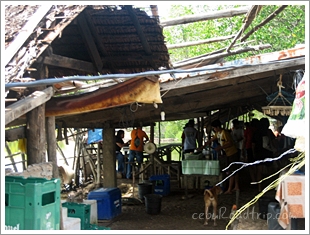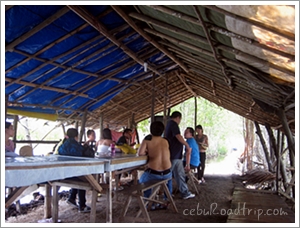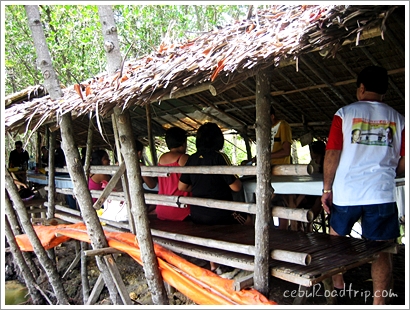 the hut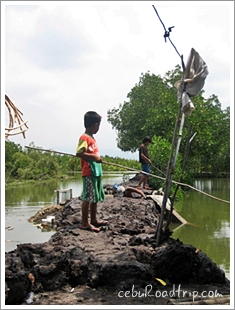 a kid fishing for tilapia (St. Peter's Fish); the pond
The place is relatively clean except for some flies that roam around. And since its a pond, expect to step on black mud earth as there are no cemented floorings here.

There are also dogs lurking around the area. No need to worry since they are harmless. What you need to watch out for are their ability to ask for food when they see you eat.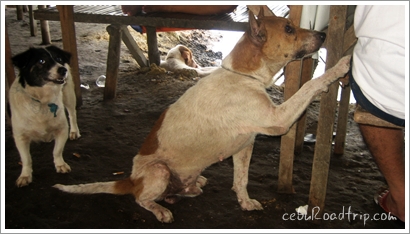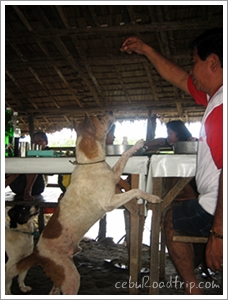 They don't eat the talaba though. They'd only ask you for food if you eat pork and fish, not the talaba. Choosy dogs, right? If you don't feed them, they'd continue to tap your side.
When one of the owners was asked, they said that the place used to be a Talaba Farm. However, what houses the ponds these days are tilapias and bangus (milkfish). They mentioned that their Talaba are bought somewhere else. However, there are still a few traps with oysters left in the pond, perhaps stocked and bred for their customers.

fresh Talaba out of the grill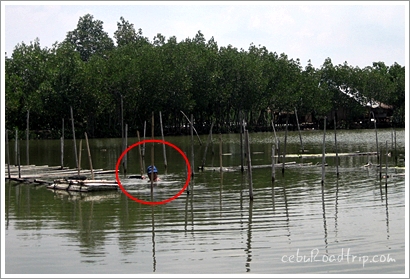 Nong Temyong's head popping out of the water as he was getting more Talaba for his customers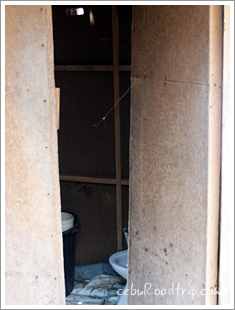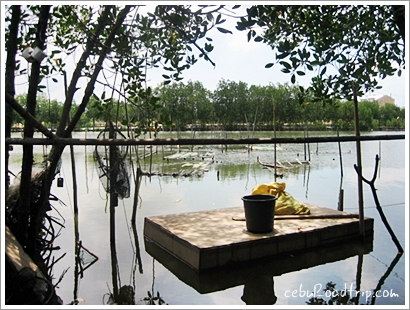 the common bathroom; the Talaba Farm/fish pond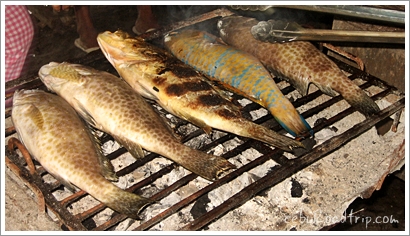 grilled fish
Another great thing about Temyong's Talaba Farm is that they allow their customers to bring in other food without charging for corkage fees. Aside from their talaba, you can bring in your own fish and meat to grill. You can also ask them to catch fresh fishes from the pond if you want.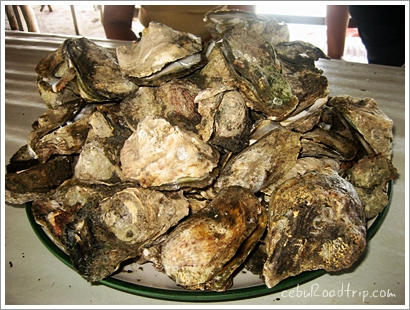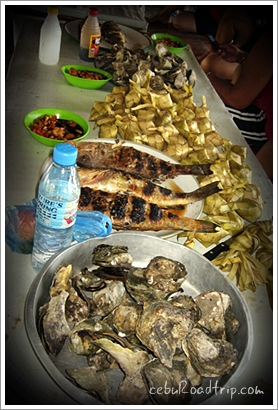 a plateful of grilled oysters and other food brought in by customers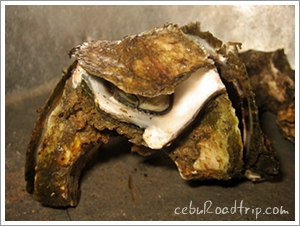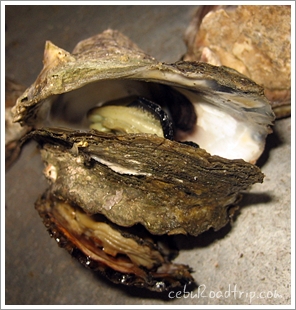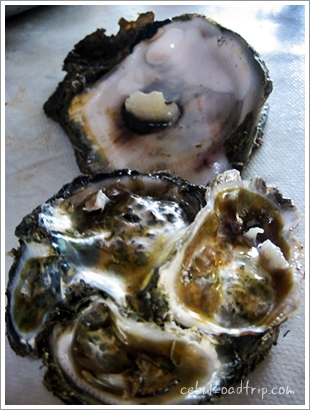 nope, thats not a puppy…that's 3 oysters rolled into 1; another oyster with 2 valves & one with 6 valves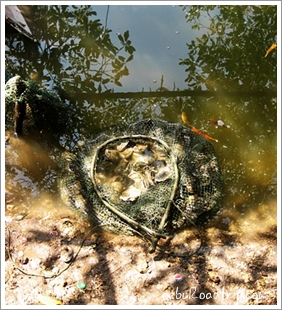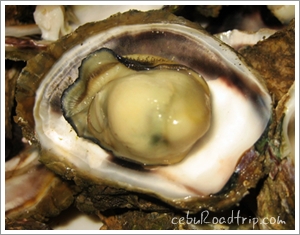 fresh oysters from the trap, then cooked…yum!
signages: 9pm limit Mon-Sun; Please separate the trash, place the oyster shells in the pail, thank you; Pay as you order (policy, but doesn't really apply there)
How To Get There?
If you are travelling from Cebu City, you need to pass by Cebu North Coastal Road's Cansaga Bay Bridge.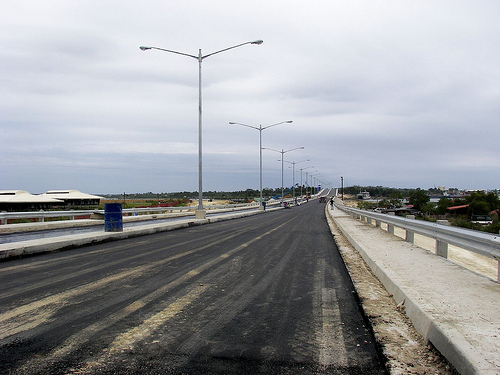 photo credit: http://mycebuphotoblog.wordpress.com/2010/01/30/cansaga-bay-bridge/
To get there, you can pass through the New Mandaue Reclamation Area. Keep going straight like you do when going to the Mactan International Airport passing through the Marcelo Fernan Bridge (2nd Mandaue City Bridge). Instead of turning right when nearing that bridge, just go straight till you see the Cansaga Bay Bridge. There you'd also see the scenic view of the bay. This bridge was created to help decongest the traffic going to the north as this connects Mandaue City to the town of Consolacion and Liloan – a backdoor entrance to those towns.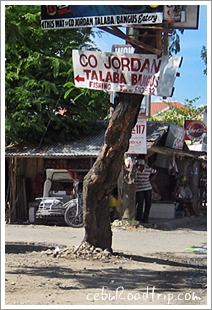 After passing through the bridge, a 2-lane road will greet you and watch out for the 1st intersection. When you see Tinong's Bakery on the left side and the "Co Jordan Talaba Bangus Eatery" signage on a tree, make a left and continue to go straight. You'll enter a village. The village ends on a dirt road (gets to be muddy on rainy seasons). Just continue traversing that road. Once you see a Redwood Subdivision signage, slow down and don't miss their guardhouse and check out the signage that reads "TEMYONG's Talaba Farm".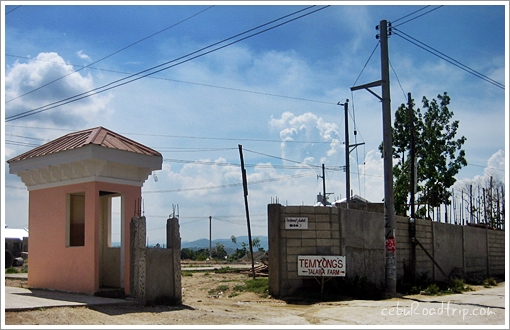 Enter this subdivision, which is still being developed, and make a left. On the last house, make a right. There you'd see the wide pond.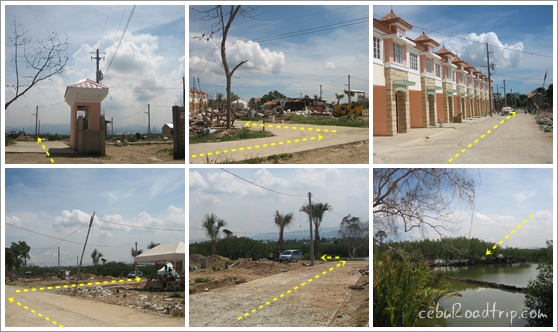 Look for a small opening on a walled fence. There you'd see a ladder leading to Temyong's Talaba Farm.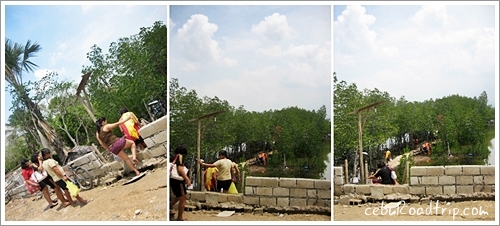 Then start crossing over the fence and walk towards the hut.

The road going to the Talaba Farm may be tricky if you are passing through the main Consolacion road. You can try that route if you are familiar with the area and the people there are glad to point you to the right direction. Otherwise, it's best to pass through the Cansaga Bay Bridge from Mandaue to get there.
How much does it cost?
P30 / kilo – uncooked (you can cook the oysters if you know how, you don't want overcooked ones, right?)
P40 / kilo – if you'll let them do the sugba (grill)
Hours of operations?
Temyong's Talaba Farm is open daily and closes at 9pm. So if you are one of those seeking for adventure and fresh talaba, then you can simply show up in this place and enjoy eating oysters! They also serve rice, beer and Pepsi products. And with a videoke machine around, what more could you ask for?
On Co-Jordan Talaba Bangus Eatery

They say that the Co-Jordan Talaba Bangus Eatery also offers a more decent dining place. However, they do not allow you to bring in food as you will be charged with corkage fees. You can simply buy the food from their farm, fresh plus you get to have the option to catch your own food. The rates, they say, are a little bit pricey too compared to Temyong's. The road leading to this area is narrower. If you want to check out the place, just follow the dirt road after passing by the Redwood Subdivision (where Temyong's Talaba Farm is located). This eatery is also gaining popularity and another great ROADTRIP idea too.
Temyong's Talaba Farm is just the 1st Talaba eatery along this side of Tayud, Consolacion.
Health Advisory: They say it's not good to eat oysters on an empty stomach. So make sure you're not too hungry when you go on this roadtrip to the Talaba farm, ok? Great!
Tags: Cansaga Bay Bridge, Co Jordan Talaba Bangus Eatery, fish pond, fresh talaba, osyter, Redwood Subdivsion, talaba, Talaba Farm, Talaba in Consolacion, Temyong's Talaba Farm, Tong's, where to find Talaba in Cebu