About
This site is a personal handy guide to your road trips within the city and province of Cebu. Feel free to browse through the listed articles to know the places you can hang out in Cebu and its neighboring areas.
About the Authors
CebuRoadTrip.com is maintained by two colleagues who share the same passion for traveling and are in search for new things to explore. We want to share what we've experienced for other people to see the wonders of the Queen City of the South as well as other attractions outside.
Doi of TheTravellingFeet.com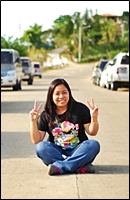 Name: Doris aka "doi"
Interests: Food, Travel, Photography, Beaches, Nature, Adventure, Freediving
Connect: Facebook.com/theTravellingFeet

Doi is a certified zombie. After being introduced to the world of blogging, social media and online marketing, she has used all the means necessary to enhance this new found passion and use it to her advantage. Her nature to explore new places and share it with the rest of the world is what keeps this wanderer going and seeking for more exciting trips and adventures.
Ed of soloflightEd.com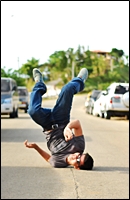 Name: Edcel aka "Ed"
Interests: Writing, Social Media, Photography, Health & Fitness, Travel, Beaches, Nature
Connect: Facebook.com/soloflightEd

Edcel is a travel enthusiast who started blogging in 2003 and has maintained a number of blog sites under his cap. He's a workaholic who spends most of his time online in order to discover the mysteries of the World Wide Web and how he can use it to his potential. He will try just about anything just to experience life and dreams to get paid while at it too.
About the Header
Verge Gamotan is the man behind our wonderful header. His creativity, drive for excellence, energy, creativity and artistic side gave birth to our awesome header. After showing Verge samples of what we want the header to look like, he came up with this concept which is just fitting for this site's overall goal/theme. Verge can also make your own headers and logos. If you wish to contact him, you can reach him at his email address – verge.gamotan[@]gmail[dot]com or visit his website at VergeVamotan.com.